Traveling with an Ostomy | PART 2 | At the Airport & on a Plane (w/video)
July 19, 2016 11:00 am
Let's talk about ostomy travel with a focus on being at the airport and/or on the plane!
A written article about this topic can be found on the link below.
Just your friendly neighborhood ostomate.
~ Crohn's Disease ¦ Ileostomy ~
September 10, 2016 5:16 pm
I've never had problems going through security at airports. I've flown from Canada to the US numerous times, to the UK, France, and to Japan. I've gone though body scanners, but I've never mentioned my ostomy or had security personnel ask about it (though I've assumed they can see it on the scanner - creepy!).
I'm with you on using the washroom near your gate just before boarding starts (though I think that's good practice for everyone). And I definitely second getting an aisle seat. No way do I want to be trapped by the window on a 13 hour flight to Japan. Give me access to the plane lavatory at all times, please. Other than that, though, I eat and drink as normal. It never even occurred to me not to lol. It's always been fine. If I need to empty by bag a few times on the plane, so be it.
To be honest, I don't really do a lot differently when I travel. I just go about it normally like by day to day life.
September 10, 2016 8:43 pm
Thanks for sharing! I'm curious about the washrooms in Japan - are they easy to navigate or they differ considerably from what a North American might be used to?
September 11, 2016 7:35 am
Japan has two types of washrooms: traditional Japanese squat toilets (
) and western-style toilets (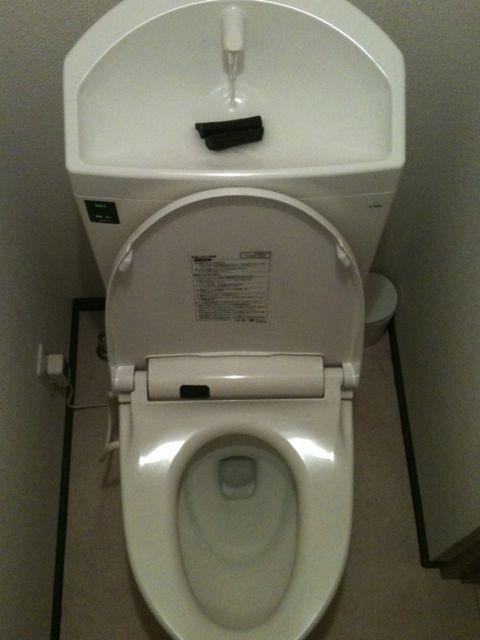 ).
The squat toilets I always avoided like the plague. The would be very awkward for an ostomate, I would think (I never actually tried them lol), but also I can't physically squat due to arthritis/knee surgery, so that option was right out.
The western toilets are pretty much what we're used to, although they can have fancy add-ons like heat, sounds (for privacy) and bidets (and many confusing buttons). Fortunately, there are hardly any places that ONLY have squat toilets. Public washrooms, for example, tend to have a mix of both and my apartment (which was fairly old) had a (basic) western toilet.
I lived in Japan for a year (hence my username; I'm not actually Japanese lol) and never had a problem. It was also easy to get the same supplies over there that I was used to in Canada. :)
September 11, 2016 1:35 pm
That's wonderful insight! Thank you =)
July 22, 2017 8:34 pm
This does not address the fact I cannot get the washroom as stated in the first comment . I am paralysed and can't leave the seat.....any help there?
July 22, 2017 8:52 pm
Hi Ian, can you share more details? Are you a paraplegic? What type of ostomy do you have?
Just your friendly neighborhood ostomate.
~ Crohn's Disease ¦ Ileostomy ~
May 12, 2018 9:59 pm
what kind of stoma guard or any is recommended for wearing to protect stoma from the seat belt on the plane?
May 12, 2018 11:23 pm
Hi Vivian, I never felt that a stoma guard or seatbelt cover was necessary when flying as a passenger. However, if you find that you need one, then search for a seatbelt cover that can go on the belt and be removed when you're done your flight.
Unfortunately, one of my favorite ones was made by a company that no longer seems to be in business, but the Ostomy Productor is still available and works well: https://www.veganostomy.ca/ostomy-protector-review/
Just your friendly neighborhood ostomate.
~ Crohn's Disease ¦ Ileostomy ~
October 21, 2018 11:21 pm
I did not have any trouble flying overseas with ostomy bag. I ate plane food, and i kept re hydrate my self by drinking water and juice. To keep re hydrate my self in long haul flight, i learnt from random Youtube. In Fact, i did not have any problem going thru security at the airport. In Addition, i must say i am lucky that did not have any leakage or had to face any other problem with my ostomy bag.
October 22, 2018 1:39 pm
Hi Yamin,
Thank you for sharing that! I'm glad that traveling with an ostomy has been trouble-free for you :)
Just your friendly neighborhood ostomate.
~ Crohn's Disease ¦ Ileostomy ~
October 22, 2018 2:29 pm
Any time I have ever been traveling I always mention that I have an ostomy when going through security. It leaves me in control and a lot less hassle. Being from N.I being stopped and searched was very common once upon a time.
ileostomy 31st August 1994 for Crohns
October 22, 2018 11:58 pm
I fly a few times a year, and used to carry the card that said I had an ileostomy that you were supposed to give to the TSA agent before going through the scanner. They were always annoyed at me talking to them at that point, so now I just make sure my bag is empty, flunk the scanner, then tell them I have an ostomy and get a pat down, Usually they have me swab on my clothes the area over my stoma and rub the swab through the (gun powder?) machine. I used to get stressed, but now I know what to expect. I always decline a private pat down room, I feel safer in public. I know the rules, and recently even reminded an agent that, "No, you can not touch or see my bag." I eat lightly the day of the flight. My goal is not to have to use the restroom, but I can if necessary. I always get an aisle seat near the front. I also make sure to stay hydrated!
UC at age 18, 1981. Diagnosed at 20, proctocolectomy with permanent ileostomy at age 23, 1986.
October 23, 2018 10:55 am
Hi Ian, with an effective in-pouch deodorant, burping shouldn't even smell - at least, that's my experience using Hollister M9.
Just your friendly neighborhood ostomate.
~ Crohn's Disease ¦ Ileostomy ~